Farmlab Public Salon
Holly Myers + Tamala Poljak
Friday, July 25 2008 @ Noon
Free-of-Charge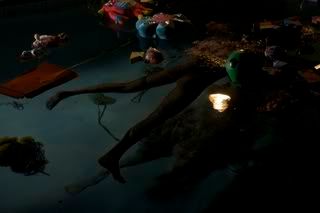 Party Favors + Conversations that Never Happened
About the Salon
This summer has seen the opening in Chinatown of two exhibitions devoted to the exploration of community-based practices prevelent in the LA art world today.
"Party Favors," curated by Holly Myers, is a group exhibition exploring the party as a subject, an idea, a state of mind, and a model of artistic practice.
"Conversations that Never Happened" is an exhibition of photographs by Tamala Poljak and a series of community-based performances and events co-curated by Anna Oxygen that explore relationships and intimacy developed during the ritual of eating, asking the questions: how does community evolves through individual interaction, and how can food and its surrounding architecture facilitate such interactions? Organized independently but deeply sympathetic in their aims, both exhibitions have combined visual art with an extensive schedule of events to bring as wide an assortment of people as possible into the often static and exclusive space of the gallery, using food, drink, performance, games, and music as tools to facilitate social interaction.
Join Myers and Poljak for a discussion of the ideas behind each show, lessons learned over the course of the month, and thoughts on where the trajectory may lead.
About the Salon Participants
Holly Myers
is an LA-based writer and independent curator. Her criticism appears regularly in the
Los Angeles Times
, the
LA Weekly
and
Art Review.
Past curatorial projects include
Possible Impossible Dimension: Six Artists on the Brink of Abstraction
at the Eagle Rock Center for the Arts and the
LA Weekly's Second Annual Biennial.
Tamala Poljak
has participated whole-heartedly in underground punk, art, and queer communities for two decades in los angeles and the pacific northwest as a photographer/artist, musician, & performer. she has been working on conversations that never happened for the past two years
Photograph by Samantha Magowan
Labels: Lauren Bon, metabolic sculpture