Farmlab Public Salon
Leo Limon
Friday June 20, 2008 @ Noon
Free Admission
"L.A. River CATz"
About the Salon
Chicano Artist Leo Limon invites you to see and hear his story of the Los Angeles River Catz.
About The Salon Presenter
Leo Limon's activities date back to the very formative years of the Chicano Art Movement and his work reflects the vision, aspirations and images of his surroundings and roots. For 30 plus years he has being painting the Los Angeles River Cat faces on the storm-drain covers and is involved with groups whose efforts are to revive the river as a historic region, cultural arts enclave and tourist destination.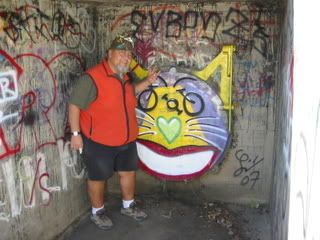 Photos courtesy Leo Limon
Labels: Lauren Bon, metabolic sculpture