Farmlab Public Salon
Evangeline Ordaz-Molina, Jose Delgado, Janet Favela & More
+ Live Mariachi Music
Friday, May 30, 2008
Free Admission
Mariachi Plaza and Hotel: Where the Music Still Lives
About the Salon
On the site of an old Mexican land grant, itinerant Mariachi musicians keep alive the Mexican roots of California, and are the soundtrack of present day Latino Los Angeles.
This salon will feature a discussion of the role geographic place and housing has played in sustaining this important part of Los Angeles history and the urban development that threatens its survival.
In addition to a musical performance by the Mariachis themselves, panelists will include Mariachi music producer and promoter Jose Delgado, and staff of the East LA Community Corporation, an affordable housing developer who is in the process of preserving and renovating the historic Mariachi Hotel as affordable housing and cultural space in an attempt to increase economic development opportunities for the Mariachis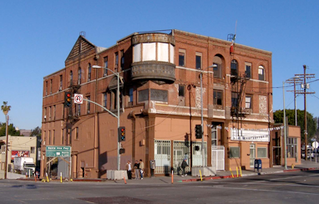 About the Salon Participants
Sergio Mendez
is a violin player and member of the group, Mariachi 2000; he lives in Boyle Heights.
Jose Delgado
is a mariachi music producer and promoter.
Evangeline Ordaz-Molina
is a co-founder of the East Los Angeles Community Corporation (ELACC).
Janet Favela
is mariachi organizer at ELACC;
Isela Gracian
is ELACC's Director of Community Organizing.
More information on participating mariachi musicians TBA soon...
Photos courtesy ELACC; top photo by Miguel Gandert
Labels: Lauren Bon, metabolic sculpture