Farmlab Public Salon
Michael Dear, Hector Lucero & Jaime Riuz Otis
Friday May 23, 2008 @ Noon
Free Admission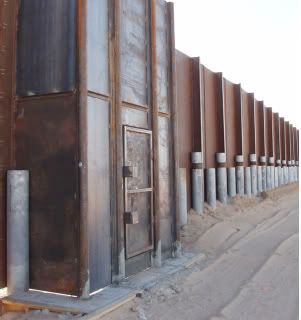 Tijuana and Los Angeles
OR: Why international boundaries no longer matter in the U.S.-Mexico borderlands
About the Salon
The twin cities along both sides of the international boundary between Southern California and Baja California have always been intimately connected from birth to the present day. Despite current tensions over immigration, the LA-Tijuana metropolis now represents a 'transborder' world.
As one binational citizen observed: "The border has disappeared from my life. I forget which country I am in." Salon participants will examine the history of Baja and Alta California, and how the current explosion of artistic and cultural life in Tijuana reveals a different understanding of future U.S.-Mexico relations.
About the Salon Participants
Michael Dear
is a Professor at the University of Southern California.
Hector Lucero
works in the Cultural Affairs office, State of Baja California, Mexicali.
Jaime Riuz Otis
is an artist based in Tijuana.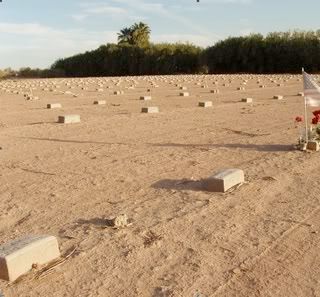 Photo captions:
(Top:) View of the new 'primary' fence at San Luis, just south of Yuma. 30-feet high and made of steel plates, the fence's 'doorway' (pictured here) is sealed shut and houses one of the 1892 boundary monuments. There are secondary and tertiary fences as well as the primary. The secondary is also 30-ft high, but made of un-climbable fencing that allows no purchase by fingers and feet; the tertiary fence is simply barbed wire. The extent and magnitude of this new walling has to be seen to be believed!
(Bottom:) The cemetery in Holtville, Imperial County, where unidentified/unclaimed bodies of migrants are buried. There are currently over 1,600 markers.
Photos and text courtesy Michael Dear