Little Help?
Farmlab Seeking Oral Histories, Past Images of Area 'Under Spring'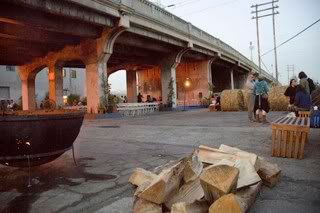 For an ongoing project, the Farmlab team would like your help.
If you have stories to share about the distant or recent past history of the area underneath the Spring Street Bridge, then please call, email, or stop by and let us know.
The area we're referring to is
located
directly behind our offices, and adjacent to rail tracks and the L.A. River. We're particularly interested in the area underneath the bridge -- the space we call 'Under Spring.'
As we've previously posted on this blog, we're also still very interested in any video, film, and photos that predate the year 2006.
If you can help, or know anyone or any place that might be able to, please
contact
the Farmlab office and ask for J.R.
Thank you,
The Farmlab Team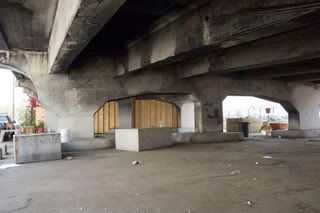 Farmlab photos by Sarah McCabe and James Goodnight; Not A Cornfield Photo Illustration by Steve Rowell
Labels: Lauren Bon, metabolic sculpture