Recent Photos of Farmlab and Under Spring
Spring 2008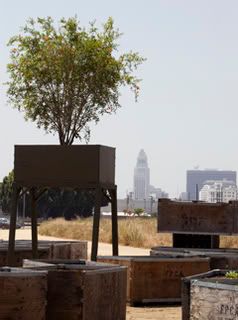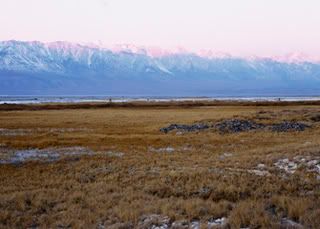 [FOR PAST PHOTOS, PLEASE CLICK HERECaptions (From top, down)
Participants in the F.L.A.G. project, during a recent group meeting.
Corn sprouting, after a wedding and reception held at and around F.L.A.G. and Cornhenge.
LA aqueduct and the sprouting golf course attached to the brand new subdivision at its foot.
Mariachi 2000 performs during the recent Public Salon titled, "Mariachi Plaza & Hotel: Where the Music Still Lives."
From "Plant a F.L.A.G. (Farmlab Agbin Garden)" -- a work in progress also located on the park's north side.
Outside Farmlab's headquarters, high above a Junker Garden, a neon sign reads, "Another City is Possible."
Marco Kusumawijaya speaks with guests during a recent weekly Public Salon. Kusumawijaya's presentation was titled, "Imagining Jakarta."
During the April, 2008 Los Angeles Art Weekend, participants take a walk through the north side of the Los Angeles State Historic Park. Tended by the Farmlab team, this northern acreage is home to Cornhenge, the anabolic monument, as well as to a seasonal fireworks of flora, the planned result of hydroseeding at the conclusion of the Not A Cornfieldproject.
Said fireworks, in full bloom, with downtown's skyscrapers behind them.
Water towers and more, also from "Plant a F.L.A.G.
Another of Farmlab's neon signs -- this one has since been moved from the garage to its current home at Underspring, where it is part of an installation work-in-progress.
Sunrise in the Owens Valley, where Farmlab and associated team members continue to visit regularly, studying, learning, and listening.
Photo credits
: Joshua White photos for Farmlab (third from top and fourth from top), and Farmlab photos by Sarah McCabe (second from bottom) and Kate Balug (all others)
Labels: Lauren Bon, metabolic sculpture