Farmlab Part of Weekend's 'East of Eden' Exhibition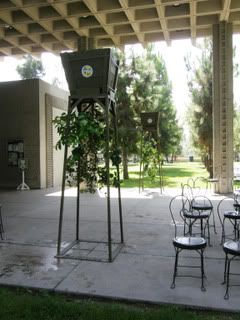 Farmlab was a participant in the September 19-21, 2008 "East of Eden" show held at the Los Angeles Municipal Art Gallery in the Barnsdall Art Park. Farmlab's pair of pieces were on display outdoors, on City property, just outside the entranceway to the Gallery. The picture above was taken during installation. Trust us -- the joint was much more crowded with folks all weekend.
For more information about the show, visit the
official website
.
Farmlab photo by Rich Nielsen
Labels: Lauren Bon, metabolic sculpture