Farmlab Public Salon
Donald Shoup, Erik Knutzen, Ali Jeevanjee, And More TBA
Friday, September 19 @ Noon
Free Admission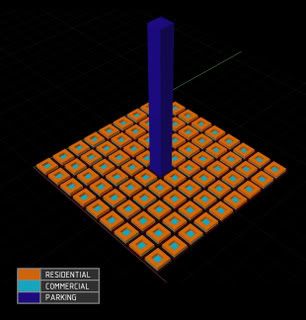 Lots Angeles -- On Parking in L.A. and Elsewhere
In tandem with 2008 Park(ing) Day LA
About The Salon
In tandem with 2008 Park(ing) Day LA, Farmlab is pleased to present this panel discussion about the social, political, cultural, economic, geographical, and other effects of parking.
About The Presenters
Donald Shoup
has extensively studied parking as a key link between transportation and land use, with important consequences for cities, the economy, and the environment. His research on employer-paid parking led to the passage of California's parking cash-out law, and to changes in the Internal Revenue Code to encourage parking cash out. His research on municipal parking policies has led cities to charge fair market prices for curb parking and to dedicate the meter revenue to finance added public services in the metered districts.
Shoup has also worked on new ways to finance neighborhood public investments. In research conducted at the World Bank, he proposed a new way to finance these investments: allow property owners to defer paying special assessments, with interest, until they sell their properties. This proposal led to passage of California's law that enables cities to use deferred special assessments to finance neighborhood public investments.
Professor Shoup is a Fellow of the American Institute of Certified Planners. He has been a visiting scholar at Cambridge University, and has served as Director of the Institute of Transportation Studies and Chair of the Department of Urban Planning at UCLA.
--http://shoup.bol.ucla.edu/
Erik Knutzen
is a program developer at the Center for Land Use Interpretation, and has collaborated on the research and production of a number of the Center's exhibitions and programs including Pavement Paradise: American Parking Space","On Locations: Places as Sets in the Landscape of Los Angeles", "Ground Up: Photographs of the Ground in the Margins of Los Angeles", "Emergency State: First Responder and Law Enforcement Training Architecture", "Terminal Island", and "Dissipation and Disintegration: Antennas and Debris Basins in the San Gabriel Mountains". Erik has applied a background in photography and interdisciplinary research to the Center's unique objectives.
The Center for Land Use Interpretation is a research organization involved in exploring, examining, and understanding land and landscape issues. The Center employs a variety of methods to pursue its mission - engaging in research, classification, extrapolation, and exhibition. Since the founding of the organization in 1994, the Center has exhibited photographic and text displays at universities, museums, and community exhibit spaces across the nation. The Center also maintains a network of interpretive facilities at selected sites in the U. S.A., and conducts guided tours to compelling land use areas. The Center embraces a multidisciplinary approach to fulfilling its stated mission, employing conventional research and information
processing methodology as well as nontraditional interpretive tools.
Ali Jeevanjee
has a Bachelor of Architecture degree from Cornell University and a Master of Architecture degree from the Graduate School of Design at Harvard University. Ali has served on the architecture faculty at USC and Cal Poly Pomona, and is also serving on the editorial team of the internationally recognized website Archinect. Parking is one of Ali's primary research interests. Ali maintains an architecture practice in Chinatown, LOC, in partnership with Poonam Sharma.
Photos: (Top) Courtesy Ali Jeevanjee
Labels: Lauren Bon, metabolic sculpture