Farmlab Invites You:
Come Weed The Thistle
Thursdsay, August 28, 2008 @7-10am
Breakfast, Fresh Greens, Live Music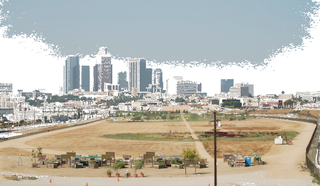 FARMLAB INVITES YOU
When: Thursday, August 28, 2008
Where: 1745 N. Spring, Los Angeles 90012
Time: 7:00 – 10:00 a.m.
Contact:
[email protected]
/323.226.1158
• Come weed the invasive Russian thistle, more
commonly called tumbleweed.
• Wear a hat, good sturdy walking shoes, and sunscreen.
• Get your heart rate up, enjoy the view and discuss
our species' future.
In gratitude we will offer all rescue hour workers a good breakfast,
something cool to drink, live music by In Lak Echin in the
anabolic area and a bunch of freshly cut greens.
Thanks,
The Farmlab Team
Labels: Lauren Bon, metabolic sculpture