Farmlab Public Salon
Wayne Wilson
Friday, August 8, 2008
Free Admission
New Media and the Olympic Movement
About the Salon
Olympic Games are by several measures the world's largest mega-events. The magnitude of the 2008 Beijing Games will be a function largely of the convergence of global sport and global media. The marriage of the Olympic Games and sports media is as old as the modern Olympic Movement itself. This symbiotic relationship has grown to a point where accredited media personnel will far outnumber athletes in Beijing.
The inherent characteristics of sport and the Olympic Movement's longstanding interest in global self-promotion prompted the International Olympic Committee and related international sports organizations to be relatively early adopters of new media forms that emerged as widely-used information tools, in the 1990s. The Internet and related technologies have become integral to the ongoing development of international sport, but they also present a unique set of issues as international sports organizations wrestle with the best way to utilize the 'Net in concert with older media. At the same time, new media enable Olympic critics to reach unprecedented worldwide audiences in ways that by- pass traditional information gate keepers. Finally, the Internet gives sports entrepreneurs who in effect are in competition with the Olympic brand a potent means of promoting their own, competing sports products.
About the Salon Presenter
Wayne Wilson is the vice president for education services at the LA84 Foundation, where he directs the website, library, research projects and the foundation's coaching education program. He has worked at three Olympic Games as a researcher for NBC Sports and is the co-editor of Doping in Elite Sport: The Politics of Drugs in the Olympic Movement (Human Kinetics).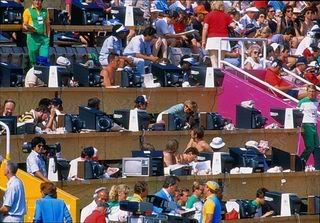 Photos courtesy: LA84 Foundation/LPI
Labels: Lauren Bon, metabolic sculpture