Farmlab Public Salon
Allan Ides + Linda Pollack
Friday, October 3, 2008 @ Noon
Free Admission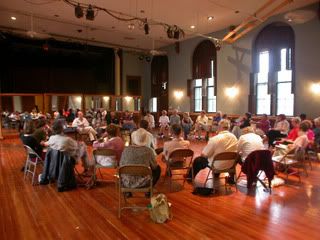 My Daily Constitution
About the Salon
The Constitution is a river that's ever-changing. It ebbs and flows. Sometimes it floods. Sometimes it is dry. At times the Constitution responds to cataclysms. In this salon, Constitutional Scholar Allan Ides and artist Linda Pollack discuss the U.S. Constitution. Specifically, Pollack will speak about lessons learned through her projects which aspire to bolster constitutional democracy, including "My Daily Constitution", the HABEAS LOUNGE, and HABEAS VOTE. Professor Ides will share his insights about the Constitution, highlighting the the composition of the U.S. Supreme Court, and the resulting states of constitutional democracy that it produces.
About the Salon Participants
Allan Ides
is the James P. Bradley Professor of Constitutional Law at Loyola Law School, Los Angeles. Ides graduated summa cum laude from Loyola Law Schol in 1979. He served as a law clerk to the Honorable Clement F. Haynsworth, Jr., Chief Judge of the United States Court of Appeals for the Fourth Circuit from 1979-80 and then clerked for the Honorable Byron R. White, Associate Justice of the United States Supreme Court from 1980-81. Professor Ides joined the Loyola Law School faculty in the fall of 1982 and served as Associate Dean for Academic Affairs from 1984-87. From 1989-97, Professor Ides was a member of the law school faculty at Washington & Lee in Lexington, Virginia. He returned to Los Angeles and to Loyola in Fall 1997. He has written extensively in the areas of Constitutional Law and Civil Procedure and is actively involved in various public service projects, ranging from civil rights litigation to the representation of individuals in deportation proceedings.
Linda Pollack
studied finance and economics at Penn State University, and art at the Vrije Akademie (The Hague) and the Jan van Eyck Academy (Maastricht) in the Netherlands. She spent a decade in the Netherlands, eventually combining her art practice with broader cultural interventions through her work as a program director for the Amsterdam-based European Cultural Foundation. There she set up APEXchanges, a groundbreaking arts mobility fund that addressed post-cold war Europe's east / west cultural and economic divide. Linda also developed initiatives promoting reconciliation and civil society in war-torn Yugoslavia, with Haris Pasovic and his Sarajevo Festival Ensemble, and Macedonian rock stars "Leb i Sol", among others. It was in this period, while immersed in her civil-society building work that Linda directed her art practice to the dynamics and visual culture of (aspiring) democracies. In 1996, Linda returned to the U.S. to pursue her MFA in New Genres at UCLA, eventually receiving her MFA from the Visual Arts Department of UCSD.
In 2002, after learning of the passage of the USA PATRIOT ACT, Linda launched the project 'My Daily Constitution' as a tool to create discussion about constitutional democracy in the United States. She has held the series in Los Angeles, NYC, Seattle, Cincinnati, and Indianapolis. Last year Linda developed and curated the exhibition PATRIOT ACTS for the 18th Street Arts Center in Santa Monica. For the show, participating artists developed new works inspired by a series of dialogues with constitutional lawyers. Pollack developed her bright red, oval HABEAS LOUNGE seating installation as an accompaniment and a place based support for these events. After its six month run, the HABEAS LOUNGE migrated to downtown Los Angeles at the 7+FIG Art Space at Ernst & Young Plaza, where she created THE HABEAS INDEX, a forum of events, presentations and discussions about Los Angeles and Los Angeles issues. For the Presidential Election in November, the LOUNGE migrates east to the City University of New York (CUNY) Graduate Center's Art Gallery, as part of the exhibition PEOPLE WEEKLY, where Linda will catalyze a series of events -- including constitution readings -- aimed to bolster civil society during this pivotal time in U.S. history.
Images:
TOP: My Daily Constitution in Cincinnati, "The Constitutional Limits of the Police Use of Force," May 2003.

BOTTOM: The United States Constitution, Dunlap & Claypool, September 1787, edition of 500. Photographed by Linda Pollack, 2004.
Labels: Lauren Bon, metabolic sculpture