Farmlab Public Salon
Raj Patel
Friday April 25, 2008 @ Noon
Free Admission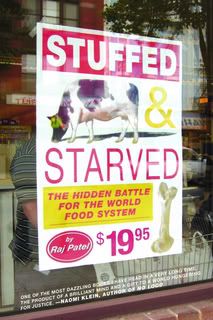 Stuffed and Starved: The Hidden Battle for the World Food System
About the Salon
Join author Raj Patel for a discussion of his new book.
Stuffed and Starved
is a startling exposé of the global food system and how activists are gaining ground against its corporate control.
Half the world is malnourished, the other half obese-both symptoms of the corporate food monopoly. To show how a few powerful distributors control the health of the entire world, Raj Patel conducts a global investigation, traveling from the "green deserts" of Brazil and protester-packed streets of South Korea to bankrupt Ugandan coffee farms and barren fields of India. What he uncovers is shocking-the real reasons for famine in Asia and Africa, an epidemic of farmer suicides, and the false choices and conveniences in supermarkets. Yet he also finds hope-in international resistance movements working to create a more democratic, sustainable, and joyful food system. From seed to store to plate, Stuffed and Starved explains the steps to regain control of the global food economy, stop the exploitation of farmers and consumers, and rebalance global sustenance.
About the Salon Presenter
Raj Patel, former policy analyst for Food First, a leading food think tank, is a visiting scholar at the UC Berkeley Center for African Studies. He has written for the
Los Angeles Times
and
The Guardian
, and though he has worked for the World Bank, WTO, and the UN, he's also been tear-gassed on four continents protesting them.
Praise for his recent work includes:
"One of the most dazzling books I have read in a very long time. The product of a brilliant mind and a gift to a world hungering for justice."
-Naomi Klein, author of No Logo and The Shock Doctrine
"Patel's broad treatment helps laymen connect the dots, [and] hear the voices of those [at the bottom] of the food chain."
-Time Magazine
"A book full of insight, that makes and important contribution."
-The Guardian
"Magesterial's the kind of book from which you emerge enlightened, surprised, angry, and determined."
-The Independent
Photo courtesy Raj Patel, via Jen Angel
Labels: Lauren Bon, metabolic sculpture