This Week @ Farmlab
December 5-December 11, 2007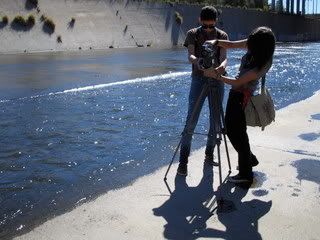 Farmlab Public Salons
Friday, December 7, 2007 @ Noon
Robert Gottlieb | Reinventing L.A.: Nature and Community in the Global City
Join Robert Gottlieb as he draws on the recently published book of the same name and speaks about how a handful of imaginative and innovative social movements have coalesced around such issues as .....
full text
Friday, December 14, 2007 @ Noon
Film Screening & Discussion | Plagues & Pleasures on the Salton Sea
Join co-directors Chris Metzler & Jeff Springer as they screen Plagues & Pleasures on the Salton Sea -- a refreshingly upbeat film that gets friendly with the natives of the Salton Sea. Narrated by John Waters .....
full text
News + Projects
Echo Park Film Center Curates Film Festival at Farmlab
Short Films Cover Topics Ranging From Urban Gardening to Community Activism
Saturday, December 8 @ 7:30pm, Farmlab hosts This is The LA River / Sustainable LA. This one-hour program of short films, created by neighborhood teens, celebrates Angelinos engaged in the green revolution ....
full text
Herms at Getty; Publico Transitorio Here
Two Conferences Held Last Week Have Farmlab Links
Both were multi-day gatherings held in and around Los Angeles. One, held at the Getty Museum, featured George Herms. The other, held at Farmlab, was part of Publico Transitorio .... More on
Herms
....
More on P/T
Exhibitions
November 9 – December 28, 2007
Crystal Ship: A Family of Artists Looking For Arcadia
"One midnight we were woken by the sound of thunder. A distant storm was coming in across the sea and the lightning stood out in prolonged relief against the moonless sky. Suddenly a ship, lit up like a crystal" .....
full text
Labels: Lauren Bon, metabolic sculpture