Herms' Jazz Opera, Workshopped with Farmlab, at Getty This Week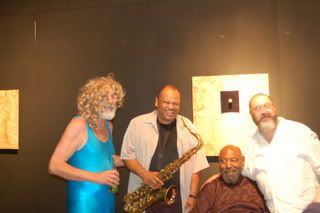 George Herms, a Farmlab artist-in-residence, is giving his jazz opera-in-progress a rare public airing this week.
The work is titled, "Fifty Years of Sitting in the Front Row at a Jazz Club, or The Artist's Life: A Salute to West Coast Jazz."
Herms and musicians Ramon Banda, David Dahlsten, Azar Lawrence, Roberto Miranda, and Theo Saunders will perform selections of the piece on Wednesday, November 14 @ 5pm, at the Getty's Harold M. Williams auditorium. The tunes are part of the Getty conference,
"Côte à Côte—Coast to Coast: Art and Jazz in France and California."
Herms and those esteemed jazz cats previously workshopped "The Artist's Life" as part of
AMAZE
, the Farmlab-Herms collaboration held last summer at the Phantom Gallery, Beverly Hills.
The photo, above, is from one of the AMAZE evenings. Herms is on the left.
Farmlab photo by Kate Balug
Labels: Lauren Bon, metabolic sculpture