Farmlab Public Salon
Alexis Bhagat
Friday, April 18, 2008 @ Noon
Free Admission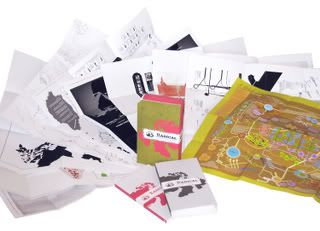 "Radical Cartography"
About the Salon
Join a conversation with Alexis Bhagat, one of the editors of "An Atlas of Radical Cartography." Bhagat will discuss the implicit politics of cartography and "radical cartography" as an explicitly political practice, and examine in detail some of the projects included in "An Atlas."
Artists (and maps) featured in the book include:
*An Architektur (Geography of the Departure Center - Furth)
*Center for Urban Pedagogy (New York City Garbage Machine)
*Ashley Hunt (A World Map in which we see...)
*Institute for Applied Autonomy with Site-R (Routes of Least Surveillance)
*Pedro Lasch (Route Guides)
*Lize Mogel (From South to North)
*Trevor Paglen & John Emerson (Select Rendition Flights 2001-2006)
*Brooke Singer (The US Oil Fix)
*Jane Tsong (The Los angeles water cycle...)
*Unnayan (Untitled Marginal Land Settlement)
About the Salon Presenter
Alexis Bhagat
is a writer, sound artist and activist. He is the co-editor (with curator Gregory Gangemi) of Sound Generation, a collection of interviews with contemporary sound artists and composers (Autonomedia, 2008).
More info:
www.nadalex.net
Image courtesy Alexis Bhagat
Labels: Lauren Bon, metabolic sculpture