Another Busy Past Weekend @ Farmlab and Under Spring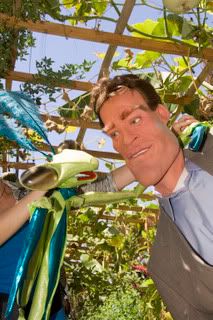 Six hundred people.
Thirty-four hours.
Four programs.
One exhibition.
That's the numerical shorthand from the past few jam-packed days at Farmlab and Under Spring, as the following happenings took place:
Friday, September 14 @ Noon: This week's Farmlab Public Salon featured Farmlab Executive Director and President of the City of L.A.'s Cultural Affairs Commission giving a keynote address about the past and present state of the arts in the city, and presenting ideas for the future.

One hundred and fifty or so attendees sat in folding chairs Under Spring during the presentation; many first grabbing a home-cooked lunch put together by Farmlab's Cathy Ortega.

Nodal's remarks included an intriguing call for artists as disaster relief "second responders," using culture as a healing tool. He also called for more city funding for the Cultural Affairs Department, and noted that just keeping other Department heads -- from Parks & Recreation to LAPD to LAFD -- informed about culture in the city was a particularly inexpensive way to invigorate citywide awareness in the arts.

Following the speech, various academic, cultural and political leaders, professionals, and fans in attendance asked questions, chatted and caught up with longtime friends in the crowd, and re- or acquainted themselves with Farmlab and the artwork's various team members.


Friday, September 15 @ Noon: New York choreographer Melinda Ring came to Under Spring to curate the "Salon of Found (and stolen) Dance." The 50 or so assembled dance fans witnessed live demonstrations of what Ring had, prior to the show, explained "found dance" to be: "An episode of movement not choreographed by you, that someone else consciously or unconsciously created, or that just happens to exist in the urban or natural environment, and that you find curious, intriguing, amusing, or inspiring."
Saturday, September 15 @ 10am: A handful of folks joined Farmlab's Olivia Chumacero for a Tongva Cultural Workshop. This week, those who participated wove baskets; the craftwork was in preparation for the coming (in early November) La Ofrenda (Day of the Dead) ceremonies.
Saturday, September 15 @ 7:30pm: The busy day-and-a-half at Farmlab and Under Spring concluded with a wildly popular and wildly populist program -- "Puppets After Hours." This 150-minute extravaganza of the wide range of puppetry arts drew a crowd of some 400 enthusiastic visitors, including many who indicated it was their debut trip to Farmlab.

The first hour of the program consisted of the puppeteers wandering around, or setting up small stage areas, throughout the Farmlab offices and Under Spring venue. A Victorian-looking duo did a show out of of a box, like street buskers, next to a garage door. A five-foot-tall praying mantis puppet hung out amidst the Ag Bin Ramblas. Fish "swam" throughout the venue, roaming from near the pond that is part of the Garden of Brokenness exhibition, through Farmlab's administrative office area, and back outdoors, where an "aquarium" was projected on a wall.

Next up, an hour-long stage show took place. Starring puppet characters included an animatronic "Ah-nuld The Govenator," a pair of gruff space aliens in their ship; a trio of singing family members, a dancing, ready-to-roast fowl (trust us --- you had to be there), the Huell Howser-meets-Joan Rivers ad-libbed antics of The Countess, and various other oddities.

The evening concluded with a concert from Glank. Weren't there? Well, just think: old, converted ambulance; lots of Haz-Mat suits; drumming; makeshift instruments and crowd interaction...That help any?
More photos from the various programs will be posted in this space in the coming days.

All of these Farmlab and Under Spring programs are presented free-of-charge.

The puppets were part of Farmlab's now-concluded "Accidentally on Purpose" series celebrating summer and serendipity.

Please continue to check Farmlab.org for weekly Farmlab Public Salon listings, as well as other special programs like those noted above.
Note about this photo: Our apologies -- we're slow posting our shots from the weekend. This image was taken prior to all the happenings; it shows off Ag Bin Ramblas, with puppets and puppeteers who would then appear during Puppets After Hours. Farmlab Photo by James Goodnight
Labels: Lauren Bon, metabolic sculpture