Farmlab Public Salon
Margaret and Christine Wertheim
Friday, January 25, 2008 @ Noon
Free Admission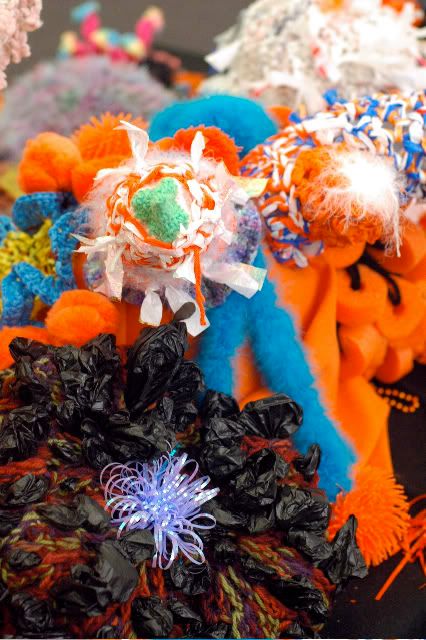 The Hyperbolic Crochet Coral Reef:
A Case Study in Contemporary "Fancywork"
About the Salon
One of the acknowledged wonders of the natural world, the Great Barrier Reef stretches along the coast of Queensland, Australia , in a riotous profusion of color and form unparalleled on our planet. But global warming and pollutants so threaten this fragile marvel that scientists now believe the reef will be devastated in coming years. In homage to the Great One, the Institute For Figuring has instigated a project to crochet a handmade reef, an effort that now engages women the world over. This woolly testimony celebrates also the strange hyperbolic geometry of the oceanic realm, bringing together mathematics and marine biology, collective art practice, craft-based making and feminism. The Crochet Reef has been exhibited at the Los Angeles County Fair, the Musee d'Arte Nationale in Sardinia.,the Andy Warhol Museum, and most recently at a major exhibition at the Chicago Cultural Center. In this talk, reef-wranglers in-in-chief, Margaret and Christine Wertheim, will discuss the genesis and evolution of the Crochet Reef project, which now has spawns on three continents.
About the Salon Presenters
Margaret Wertheim and Christine Wertheim are co-founders and co-directors of the Institute For Figuring. Margaret is a science writer and author of books on the cultural history of physics. Christine is on the faculty of the Department of Critical Studies at CalArts, where she teaches experimental writing and feminism. She is also a poet whose work deals with the intersection of language and logic. Both twins learned handicrafts from their mother Barbara when they were growing up in Brisbane, Australia.
More information about the Crochet Coral Reef project may be seen at the IFF website:
www.theiff.org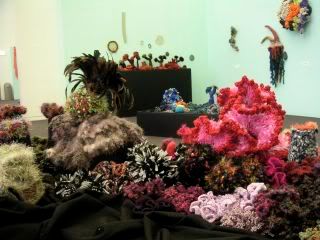 Photos courtesy Institute For Figuring
Labels: knit, Lauren Bon, metabolic sculpture