Farmlab Public Salon
Lauren Bon
Friday, May 9, 2008 @ Noon
Free Admission
Artist Walkthrough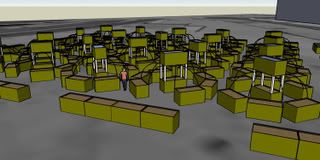 Join Lauren Bon for a walkthrough of Farmlab, Underspring, and the north side of the Los Angeles State Historic Park.
The walkthrough -- among other topics -- will provide a look at the work being done daily towards creating the exhibition,
Earth, Seeds, Water, Process: Farmlab 2006-2008.
About the Planned Exhibition
Earth, Seed, Water, Process: Farmlab 2006-2008
intends to condense the work explored during the two years since the end of the Not A Cornfield project. Located near downtown Los Angeles, Farmlab is an inter-disciplinary studio that aims to support living things in the often-hostile urban environment.
Farmlab's imperative to create prototypes of objects and operations that sustain life began with the 2006 failure to prevent the demise of the South Central Farm. Not A Cornfield and the SCF were closely related in spirit, as well as by geography. (They were located five miles apart.) Farmlab project artist Lauren Bon and the Annenberg Foundation, where she serves as a trustee, were deeply involved in attempting to prevent the dislocation of the South Central Farmers from the land they'd long cultivated.
The farm was ultimately destroyed. Farmlab removed organic materials that survived the initial bulldozing. Indeed, the beginning of Farmlab was in this crucible of loss. From that experience, a need became apparent to renegotiate the value of earth, seed, and water as an ethical construct.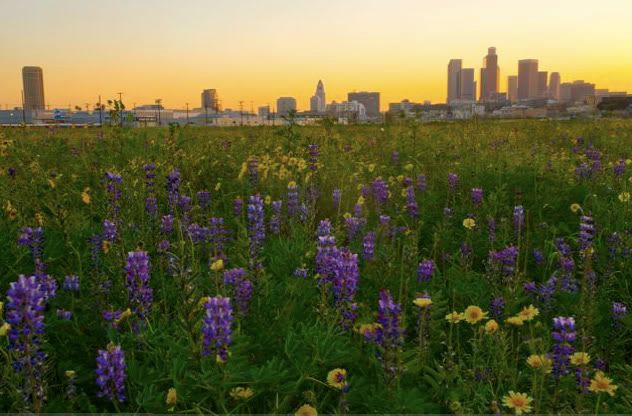 The new exhibition will likely feature four installations. Three of the works deal with remainders – Earth, Seed, and Water. The fourth work, Process, concerns the complex issues surrounding the Farm's fight for survival, as well as the difficulties encountered while resituating 100 mostly fruit trees that Farmlab had rescued.
Materials that help compose the installations will likely include, at the Los Angeles State Historic Park: Dozens of ag (or "agriculture") bins that form a temporary, portable community garden. At Underspring: deployable ponds, a neon sign with a nuanced message, a quartet of high-perch listening stations, and the sounds of a thunderstorm. And, at Farmlab: a room-sized handcrafted screen, shaped via origami into a double helix, showing multiple archival film projections. There is no set date for any
Earth, Seeds
exhibition opening.
About the Salon Participant
Artist and Annenberg Foundation Trustee Lauren Bon has produced large-scale art works in challenging sites around the world for over twenty years. Her current work, Farmlab, is an initiative of and collaboration with the Annenberg Foundation. Farmlab, located in a warehouse in downtown Los Angeles, is a "social sculpture," a human-scale, interactive, interdisciplinary, research- and presentation-based art object, the mission of which is to investigate ways and means to support people and living things. Farmlab's collaboratively-developed projects are studies into the nature of public space; they operate at the intersection of urban ecology, civic engagement, contemporary visual art, and proactive philanthropy. Founded and led by Ms. Bon in 2006, Farmlab emerged from
Not A Cornfield
, a metabolic sculpture that dramatically transformed 32 acres of brown field just north of downtown Los Angeles to a green field over a single agricultural cycle.
Bon's art projects and her role as an Annenberg trustee make her uniquely poised to build the capacity of the Foundation in site-based philanthropy and to make historic contributions to the field of contemporary art. Bon resides in Los Angeles and holds a Masters of Architecture degree from MIT and a BA from Princeton.
Farmlab Location
Farmlab / Under Spring, 1745 N. Spring Street #4, LA, CA 90012
Across the street from the site of the
Not A Cornfield
project, in a warehouse colocated at Baker Street and N. Spring Street
Salons are always free-of-charge, all ages welcome.
Refreshments will be served.
Farmlab Illustration by Jaime Lopez Wolters; Photo for Farmlab by Joshua White
Labels: Lauren Bon, metabolic sculpture