What You Missed Last Saturday Night
A
crowd of 300 or so people gathered Under Spring Saturday night, July 28, 2007 for
The Camel's Back
, part of Farmlab's "Accidentally on Purpose" series that celebrates summer and spontaneity.
Folks who came were treated to the likes of a collaborative performances by guitar hero Nels Cline, bassist Jesske Hume, and butoh dancer extraordinaire, Oguri; and, as if that wasn't spectacular enough, the premiere of composer Yuval Ron's work, "Maya." That piece featuring both wind instrumentation and the playing of an enormous "earth harp" -- a massive string instrument made of thick wires that stretched nearly the complete length of Under Spring.
More music followed by Arnie Saiki's band, Obakesan, featuring dance by Robert Scott; and a solo dance piece by Miles Tokunow.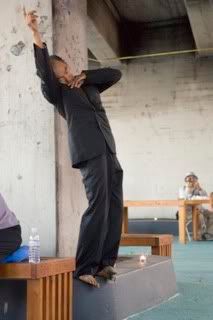 Captions: The "Earth Harp," being played (top), and installed (bottom); and butoh dancer Oguri, performing under Spring, to the musical accompanyment of Nels Cline and Jesske HumeFarmlab photos by James Goodnight