Ag Bin Ramblas
An Under Spring Walking Tour
F
orty-two paces.
With this blog's gait, anyway, that's the length between void and verdant.
Between litter and lush.
Between asphalt and agriculture.
Thirty-one ag bins.
Planters, really, boxes of wood, now brimming with pumpkin, chilies, squash, bananas, corn, avocados, guava, mint, beans, berries,tomatoes, marigolds, sugar cane, and other abundant examples of fellow flora.
For now, call it, "Under Spring Jardin."
Coming soon, maybe call it, "Ag Bin Ramblas."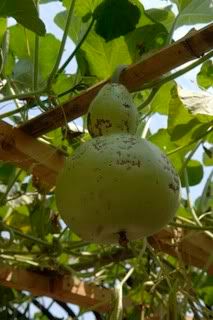 What's all this about?
Since May, Farmlab Artist-in-Residence Gerardo Vaquero Rosas has filled a fleet of these approximately six-foot-by-three-foot-by-three-foot boxes with soil and seeds -- the latter of which hale from the former South Central Farm. These past months, Rosas has gently watered, he's pruned, he's vigilantly fretted.
Now, five weeks into summer, the results are apparent: Two rows of the bins, marching down gutter and metal fence, sandwiching an all-but-ignored sidewalk; vegetables sprouting, almost leaping like they were chlorophyll fountains; vines wrapping around barbed wire to one side and the wooden latticework above, seeking light, providing a canopy's shade.
The crop ought to remain strong until January, Vaquero Rosas reports. Whether the current cocooning sensation of strolling, forty-two paces or otherwise, lasts that long is an open question. See for yourself next time you're at Under Spring.
What's the bigger picture?
Ag bins have been a fundamental tool in the materials pallete for Farmlab team members since they housed kernels, ears, and silk from the
Not A Cornfield
crop. The bins served as massage tables during, "
The End: A Party."
Then, more seriously, they became a unit of measurement, of sorts, as Farmlab attempted to conceive of an alternative solution to the then-seeming end of the South Central Farm.
If, for example, property owners are willing to allow farmers temporary use of land, then what if fleets of ag bins were delivered to those sites, or offered to those who would populate them? In that case, when it was time to move on, the bins -- whether on wheels or otherwise -- could be redeployed at the next temporary farming location. That could mean less chance of a loss of community; less chance of a loss of soil and crops; and perhaps, less contention.
Related Farmlab Links:
Farmlab photos by James Goodnight