Farmlab Tours City of L.A.'s Hyperion Sewage Treatment Plant
Farmlab team members accompanied Annenberg Foundation staffers yesterday on a tour of the city of Los Angeles'
Hyperion Sewage Treatment Plant.
Pictures from the tour will be posted here in the coming days**. In the meanwhile, here's what Farmlab's old pals at the Center for Land Use Interpretation have to
say about this facility
, which was named one of the top ten most outstanding public works projects of the 20th century by The American Public Works Association.
(Other named projects include the Panama Canal and the Hoover Dam -- to give an idea of the scale of the massive and complex Hyperion plant.)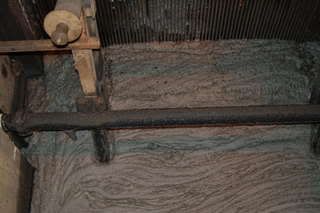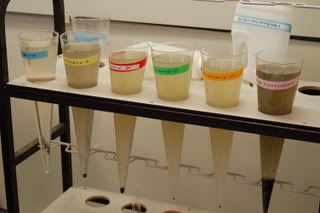 **UPDATED with Farmlab Photos by Kate Balug.

From top: Touring the facility, taking note of its massive scale; separating solid objects from the sludge; from the in-house laboratory, samples indicating water gets cleaner as it's processed
Labels: Lauren Bon, metabolic sculpture