This Week @ Farmlab
August 15-August 21, 2007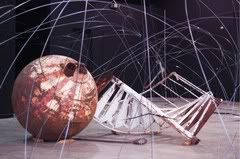 News + Projects
Open Call: 'The Salon of Found (and stolen) Dance'
Submission Deadline: 9/5 @ 2pm PST
Choreographer Melinda Ring is curating The Salon of Found (and stolen) Dance to be held at Farmlab on Friday, September 14, 2007, at 7 pm. This will be an evening of live .....
full text
Los Angeles Times Runs Article on Farmlab
Piece Appears in Calendar Section on Thursday, August 9, 2007
The piece, written by Shana Ting Lipton, says, in part, that: "Farmlab began as a temporary sounding board for green, community-oriented artistic initiatives. It has since taken root and .....
full text
Farmlab Public Salons
Friday, August 17, 2007 @ Noon
Park(ing) Day Los Angeles | Creating Ephemeral Parks
Park(ing) Day creates micro-sized parks, as well as a dialog about cities, creativity, lack of open space, and how much real estate we give over to our cars......
full text
Friday, August 24, 2007 @ Noon
Andy Lipkis | Helping Nature Heal Our Cities
Join Andy Lipkis, founder of TreePeople, for a discussion about all things urban and arboreal ......
full text
Farmlab + Under Spring
Farmlab + George Herms Team Up at Phantom Galleries
August 11-31, 2007 - See Schedule for Special Performances
Opera Workshop featuring art installations Amaze by Farmlab Team and The Artist's Life: A Free Jazz Opera by George Herms at Phantom Galleries LA, 269 N. Beverly Drive, Beverly Hills, CA .....
full text
Labels: Lauren Bon, metabolic sculpture