Farmlab Public Salon
Lucas Reiner
Friday, October 19 @ Noon
Free-of-Charge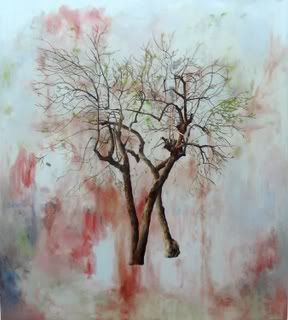 Pollarding in the New World
About the Salon
Join artist Lucas Reiner as he discusses his on-going fascination with trimmed trees -- and the photographs, paintings, drawings, and film that have resulted from this.
Of particular interest to regular Farmlab Public Salon attendees might be
On Alameda Ave. #1 (SCF)
. Reproduced above, this 2007 oil on canvas painting by Reiner was commissioned by Farmlab, and features as its subject matter the venerable, intertwined California Black Walnut trees that were the iconic symbol for the former South Central Farm.
About the Salon Presenter
Lucas Reiner is an artist who lives and works in Los Angeles. Since the Fall of 2001 he has been painting urban trees, trimmed by the Department of Transportation. He has exhibited his paintings, drawings, and videos in galleries in Los Angeles, Houston, New York, London, Munich, Milan, Mexico City, La Paz, and Buenos Aires. Art in America described his paintings as "resonating with emotion, poetry and gritty reportage". In 2004 he received a Lester Horton award for scenic design for Helios Dance Company. He is currently exhibiting work at "Pocket Utopia", an exhibition/salon/social space run by Austin Thomas in Brooklyn.
About Farmlab and the trees of the South Central Farm
For more information, please click the various links located
on this page.
Above:Lucas Reiner
On Alameda Ave. #1 (SCF)
Oil on Canvas
2007