This is The LA River / Sustainable LA
(Short Film Screenings)
Saturday, December 8 @ 7pm
Free-of-Charge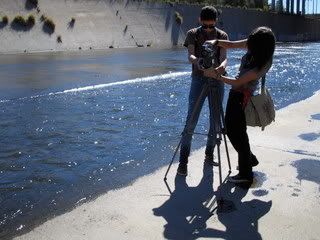 Curated by Echo Park Film Center. Short films from the Echo Park Film Center Youth Filmmaking Class, Edible Estates, Ross Guidici, Farmlab, Fallen Fruit, Elon Schoenholz, Tree People, Matrushka Construction, TreehuggerTV, Survive LA, Greenmeme, Surfrider Foundation and Donny Digital.
About the Program
This Is The LA River,
an EPFC Youth Documentary Project, invited twenty neighborhood teens between the ages of 14 and 19 to explore the River through the medium of 16mm film. Over a 12-week period, the group worked with activists, historians, environmentalists, artists and residents to create a unique picture of the great waterway's complex past, present and future.
PROJECT PREMIERE! FILMMAKERS IN ATTENDANCE!Sustainable LA
is a celebration of Angelinos engaged in the green revolution. The one-hour program consists of short films on a variety of topics including urban gardening, environmental awareness and community activism. In keeping with the grassroots nature of many of these organizations, emphasis is on issues awareness, practical information exchange and hands-on participation.
About the Echo Park Film Center
The Echo Park Film Center (EPFC) is a non-profit media arts organization committed to providing equal and affordable access to film/video education and resources. We work to inform, educate and empower our community toward grassroots activism and artistic participation via four channels: a neighborhood microcinema/events space, free and nominal cost media arts education programs, a comprehensive film equipment and service department, and a touring film festival showcasing local established and student filmmakers.
Program Credits
This Is The LA River
USA, 2007, 30 min.
Created by the Echo Park Film Center Fall 2007 Youth Film Class
Project support provided in part by The Annenberg Foundation, The California Council for the Humanities, Fox Studios, Los Angeles City Council District 13, The Los Angeles County Arts Commission and The Los Angeles Department of Cultural Affairs.
An examination of the past, present and future of the great waterway of Los Angeles.
Edible Estates Regional Prototype Garden #2: Lakewood, CA
USA, 2006, 12 min.
Directed by Fritz Haeg & Jacinto Astiazaran
Camera & editing by Jacinto Astiazaran
Narrated by Michael Foti
Turning front yards into farmland.
South Central Farmers
USA, 2005, 7 min.
Shot, directed, produced and edited by Ross Guidici
The struggle for food and dignity in an encroaching industrial wasteland.
In the Garden of Brokenness
USA, 2007, 4 min.
Directed, written and produced by Farmlab
Imagine junker-cars becoming magical gardens.
Urban Fruit Action
USA, 2007 3 min.
Directed, written and produced by by Fallen Fruit (David Burns, Matias Viegener, Austin Young)
Fallen Fruit's URBAN FRUIT ACTION video shows neighborhood activists planting fruit trees to create a communal neighborhood resource.
You Can't Compost Concrete
USA, 2007, 4 min. 1sec.
Directed by Elon Schoenholz
Written by Bryn MacKinnon, Elon Schoenholz and Scott Singer
Produced by Elon Schoenholz
D.I.Y. backyard activism.
Tree People Campus Forestry Video
USA, 2006, 6 min.
Produced by Michael Kuehnert and Pablo Garrahan for WSR Creative
Supervising Producers: Laura Kaufman and Rachel Dawson for Tree People
Camera: Michael Vest, Michael Kuehnert and Pablo Garrahan
Editors: Pablo Garrahan, Michael Kuehnert, Jose Delgado
Take back the schoolyard!
Reap What You Sew
USA, 2005, 30 sec.
Directed by Laura Howe and Beth Ann Whittaker of Matrushka Construction
Filmed by Kent Young
Edited by Stephaine Hernstadt
Fashion power to the proletariat!
Path to Freedom: Urban Homestead
USA, 2006, 5 min.
Treehugger TV
A look at urban homesteading.
Green Ambassadors
USA, 2005, 8 min.
Shot, directed, produced and edited by Ross Guidici
The next generation of environmentalists.
Build a Self-Watering Container
Free Republic of Silver Lake, 2007, 2 min. 16 sec.
Directed, written and produced by SurviveLA
In this first of a series of self-sufficiency instructional videos SurviveLA, Silver Lake's own urban homesteaders, and proprietors of www.survivela.com, show you how to tell the MAN where to stick his tasteless, pesticide soaked, hormone pumped Frankenproduce.
How to Make an LA River Liver: A Living Solution To Urban Storm Water Pollution
USA, 2007, 4 min.
Directed, written and produced by Greenmeme
Edited by Mandy Siu
The River Liver intends to attract nature and community to the banks of the LA River through the means of an inflatable physical art installation in the water.
Shifting Baselines in the Surf
USA, 2005, 4 min. 9 sec.
Directed by Randy Olson
Written by Randy Olson and Chad Nelsen
Produced by Ty Carlisle
A Joint Production of Shifting Baselines and Surfrider Foundation
In the 1950's you could clean your cuts and bruises in the ocean; today you
need hepatitis shots if you are a surfer. Why didn't we notice the slow
decline?
Wolfpack: The Hustle Ride
USA, 2007, 3 min. 6 sec.
Directed and produced by Donny Digital
A bicycle crew running a weekly fast-paced ride known as "The Hustle Ride" across the streets of Los Angeles.
Images courtesy Echo Park Film Center